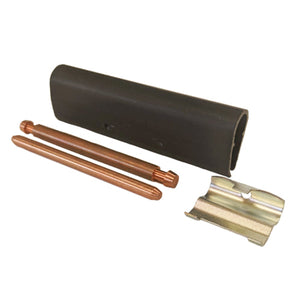 CJ300: 300 Amp Joint Kit
[Code: IPC0400279]
CJ300: 300 Amp Joint Kit
The CJ300 is a kit that is used for completing field fabricated joints. This kit Includes connector pins and a # 100JC snap-on insulating cover. Extra joint kits come with the Series C Conductor Bars to assist with the installation process and make it easy!
The copper pins that are included are as follows: 5/16" x 4" (7.9 x 101.6) Copper & 15/64" x 3.75 (5.9 x 95.3) Copper
A standard insulating cover is orange rigid PVC extrusion, 160O F (71O C) heat distortion points at 260 psi, self-extinguishing. Medium heat cover of red Lexan extrusion can be specified, when necessary, 260O F (127O C) heat distortion point at 260 psi, self extinguishing. High heat fiberglass cover is available, 375O F (191O C) heat distortion.
Need to level up? Try our CJ350 amp joint kit!