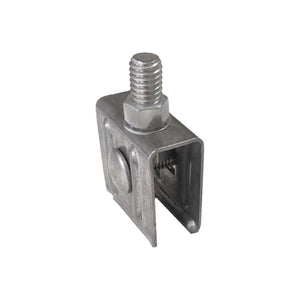 100HSS: Stainless Steel Cross Bolt Hanger Clamp (Indoor Corrosive)
[Code: IPC0400256]
100HSS: Stainless Steel Cross Bolt Hanger Clamp (Indoor Corrosive)
The 100HS is a single hanger cross bolt that is made of stainless steel, and is intended for corrosive, indoor environments.
This hanger clamp is engineered to snap in place, but may need to be field adjusted to achieve proper sliding tension, unless used as an anchor.
Hanger Instruction
Anchor Hangers: Tighten cross-bolts to 6ft lb.
Sliding Hangers: For conductor expansion. Tighten cross bolts, then back off ¼ turn.
In need of a component replacement? Navigate here for all Series C products!