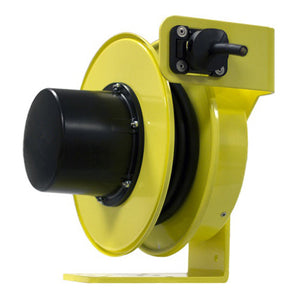 142160309011: Lift / Drag Cable Reel With 90 Feet of 3 Cond 16 AWG Cable
[Code: IPC2900436]
Insul-8 
142160309011: Cable Reel (Lift & Drag) with 3 Conductor 16 Gauge Cable (90 Feet)
Insul-8's Lift & Drag Cable reels are proven to be compact and high quality solutions to for your industrial cable management. Looking for a heavy duty cable management system? The 142160309011 from Insul-8 features dual saddle frame support to increase the structural strength of your cable reel. It also includes weather-proofed spring motor gasket to ensure your cables are organized safely and for a long time. 
Support your industrial power with rugged and versatile mounting. Insul-8's 142160309011 can be used for situations where the reel is stationary and the cable is dragged along a horizontal surface or extends and vertically retracts below the reel. 
Product Features
Cable Length (feet):  90 ft
Cable Gauge (awg): 16
Cable Conductor: 3 Conductor
Cable Reel Motion: Stationary
Cable Motion: Lift (Vertical) / Drag (Horizontal)
Need something else? View the 121160305014 model. 
$2,623.00 USD

$2,623.00 USD
---
---