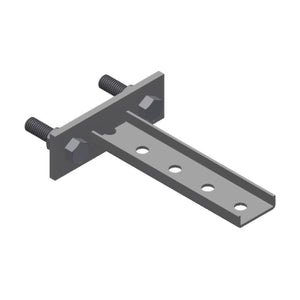 B-100-BRCT3: Steel T Bracket With Mounting Plate - 4 Holes 6.75
[Code: IPC0570149]
B-100-BRCT3: Steel T Bracket With Mounting Plate - 4 Holes 6.75
The Figure 8 Electrical Conductor Systems by DUCT-O-BAR are for overhead cranes, trolleys, monorails, hoists, conveyors, automatic stacker-retrieval systems... and any application that requires a reliable, safe, and economical moving power system.
This is a straight bracket without a mounting plate for web mounting brackets. This bracket is a primed 12 gage rolled steel channel with a mounting plate and hardware.
1.5lbs (.68kg) Bracket — 4 holes — 6-3/4" (.5ft) long.