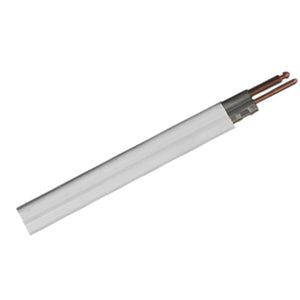 CA350X10W: 350 Amp Outdoor Conductor With Joint Kit And Keeper Clip x 10 feet (White)
[Code: IPC0400251]
CA350X10W: 350 Amp Outdoor Conductor With Joint Kit And Keeper Clip x 10 feet (White), Click to read Shipping Policy
The CA350X10W is an outdoor conductor bar with a joint kit that is 10 feet in size. The bar is comprised of copper. This model is white in colour. This outdoor conductor bar safely transfers power to hoists, conveyers, cranes and monorails. Due to this product being apart of the Series C, it comes with a joint kit which simplifies the installation process. The unpredictable condition of outdoor weather is counteracted with a protective hood for additional protection!
This product has a 350-ampacity range and has a 600 voltage limit. The metal guideways and the C shaped contact surfaces ensure positive tracking for the collector shoe, resulting in strong contact throughout the entirety of the system. The bar itself has skin-tight insulation which runs cooler and will not deform under the pressure of clamping!
Product Features:
Bar Material: Electrolyte Copper
Normal Current (amps): 350
Max. Voltage: 600
DC Resistance (Ohms/ ft): 0.00006
AC impedance (Ohms/ft at 60Hz): 0.000080
Wt lb/ft (kg/m): 0.55
Wanting an indoor conductor as well? No problem, we've got you covered! Check out our CA350X10!