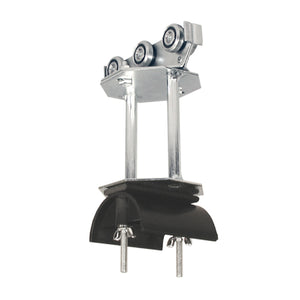 FC-TRT1-SS: SS Tow Trolley Assembly SS Wheels 3" dia. Nylon Saddle
[Code: IPC1400804]
FC-TRT1-SS: SS Tow Trolley Assembly SS Wheels 3" dia. Nylon Saddle
The 14 Gage C-Track System by DUCT-O-WIRE, is available in either galvanized steel or stainless steel. Additionally, it is suitable for both round and flat cables, depending on your systems requirements. The 14-Gage C-Track also has the capability to curve radii from 4' to 7'. This system is catered specifically to you and your unique applications!
This is a tow trolley and saddle assembly with a load rating of 45lbs. This trolley is stainless steel, with a standard saddle that has a cut out box for the tow bar. The wheels are also made of stainless-steel.
*one is required for each piece of moving equipment to be electrified.