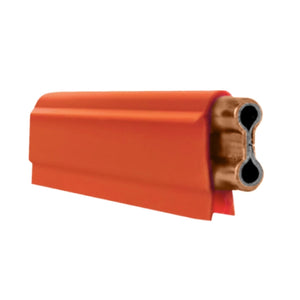 FE-1608-2: 160 Amp Figure Eight Rolled Stainless Steel / Copper 10 ft Section With Joint Cover
[Code: IPC0570103]
FE-1608-2: 160 Amp Figure Eight Rolled Stainless Steel / Copper 10 ft Section With Joint Cover, Click to read Shipping Policy
The Figure 8 Electrical Conductor Systems by DUCT-O-BAR are for overhead cranes, trolleys, monorails, hoists, conveyors, automatic stacker-retrieval systems... and any application that requires a reliable, safe, and economical moving power system.
Duct-O-Wire Figure 8 Conductor Bars are complete as assemblies that are equipped with a 600-volt conductor bar (10ft), an insulating cover, splice cover, and connector pins or joint clamps as applicable.
This is a rolled stainless steel/copper conductor bar that is rated at 160 Amps. This bar is equipped with an orange joint cover, and is suitable for the indoors.
Indoor systems are to be used in environments with an ambient temperature of up to 71°C (160°F). Indoor systems contain an orange PVC Insulating Cover to differentiate it from other bars. It is recommended that they are NOT to be used in the direct sunlight (outdoors).
Weight: 6.5lbs (2.94kg)
Size: 10ft (120")