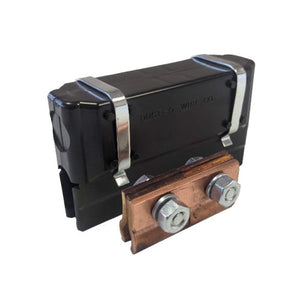 FE-2008-2CP: 250 Amp Rated Centre Power Feed for FE-1608 and FE-2008 Systems
[Code: IPC0570184]
FE-2008-2CP: 250 Amp Rated Centre Power Feed for FE-1608 and FE-2008 Systems
The Figure 8 Electrical Conductor Systems by DUCT-O-BAR are for overhead cranes, trolleys, monorails, hoists, conveyors, automatic stacker-retrieval systems... and any application that requires a reliable, safe, and economical moving power system.
Power feeds help to safely transport power between the power source and the application.
This bronze feed is rated at 250 Amps and is suitable for FE-1608-2 and FE-2008-2 systems. This feed will accept up to #1/0 AWG cables.
Weight: 0.63lbs