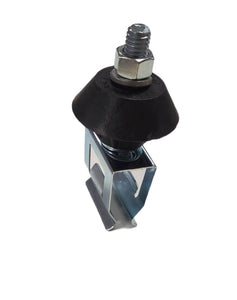 FE-908-2SFG: Zinc Plated Steel Snap-In Hanger and Insulator with Hardware
[Code: IPC0570169]
FE-908-2SFG: Zinc Plated Steel Snap-In Hanger and Insulator with Hardware
The Figure 8 Electrical Conductor Systems by DUCT-O-BAR are for overhead cranes, trolleys, monorails, hoists, conveyors, automatic stacker-retrieval systems... and any application that requires a reliable, safe, and economical moving power system.
This is a snap-in spring hanger and insulator assembly that is suitable for outdoor, wet, and dirty applications.
This steel hanger is zinc plated with an insulator.
0.2lbs (.09kg).