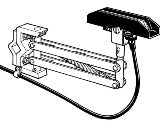 P-40-VSC3: 40 Amp - Single Shoe - Vertical Mount Systems
[Code: IPC0570235]
P-40-VSC3: 40 Amp - Single Shoe - Vertical Mount Systems
The Figure 8 Electrical Conductor Systems by DUCT-O-BAR are for overhead cranes, trolleys, monorails, hoists, conveyors, automatic stacker-retrieval systems... and any application that requires a reliable, safe, and economical moving power system.
The P-Series collectors can be used on both curved and straight transfers and runs. The pantograph design allows for continuous spring pressure for the entirety of the strokes range. Conductor bars must be 3" apart.
This model is a single shoe collector rated at 40 Amps. This collector is to be mounted vertically.