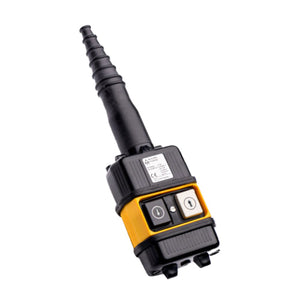 PF02020007: 2 Button SPA (2 x 1 Speed)
[Code: IPC0800301]
PF02020007: 2 Button SPA (2 x 1 Speed)
This SPA pendant operates as an auxiliary controller of electrical motors through various power interfaces such as PLC's or conductors.
This durable pendant device consists of 2 single speed buttons with normally open (NO) configurations.
Features:
The SPA's dual column design allows for the shorter pendant to fit more actuators. 
The high-quality materials support its wear resistant features which add to this pendants durability since it can withstand dusty and wet conditions.
Technical Specifications:
Operational Temperature: -25°C/+70°C
Rated operational current: 1.9 A
Mechanical life: 1,000,000 operations
Certifications: CE - UL - (c)UL
Weight: 1.15lbs
Looking for some replacement parts? Navigate here!