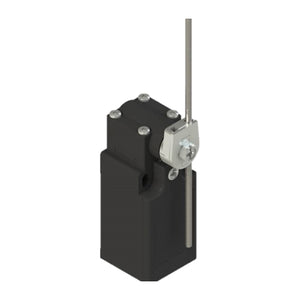 PF25766300: DIN Adjustable Steel Rod Limit Switch 1NO + 1NC Slow Contact
[Code: IPC0810248]
PF25766300: DIN Adjustable Steel Rod Limit Switch 1NO + 1NC Slow Contact
TER's DIN position limit switch contains nylon (reinforced with fiberglass) thermoplastic heads. This switch also contains aluminum enclosures.
These models contain water resistant components in order to protect your unit against dust and water.
This adjustable steel rod design requires the PRSL0031XX switch. This switch has 1 normally open and 1 normally closed configuration. The microswitch type is a double break, slow action.
Features:
Certifications: CE marking and EAC
Size: 104x40x43 mm, with 4 fixing holes
Mechanical life of switches: 1 million operations
Operation frequency: 3600 operations/hour max
Extreme temperature resistance: -25°C to +70°C
Technical Specifications:
Rated operational current: 3 A
Rated operational voltage: 250 V
Rated thermal current: 10 A
Rated insulation voltage: 300 V~
Mechanical life: 1x106 operations
Connections: Screw-type Terminals
Wires: 1x2.5 mm2 , 2x1.5 mm2
Tightening torque: 0.8 Nm
*View attached image for actuating travel diagram