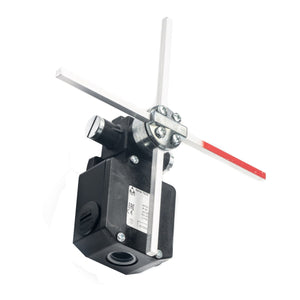 PF33714100: T-Type Limit Switch With 3 Maintained Positions
[Code: IPC0810216]
PF33714100: T-Type Limit Switch With 3 Maintained Positions
TER's cross-position limit switches are engineered to control the movement of both traverse applications and machine tools with high complexity such as overhead cranes or hoists.
This switch is made with dust and water-resistant materials in order to ensure a long mechanical life and top tier performance!
The PF33714100 is an X-FRC limit switch with a '3 maintained' position. This model is equipped with a 'T' type rod.
Features:
Opening: Snap action 1NO+1NC switch.  Positive opening NC contact for safety functions
Mechanical Life: 1 million operations
Temperature Resistance: -25°C to +70°C
Certifications: CE - UL - (c)UL
*View attached image for actuating travel diagram
Technical Specifications:
Operation Frequency: max. 3600 operations/ hour
Rated operational current: 3 A
Rated operational voltage: 250 Vac
Rated thermal current: 10 A
Rated insulation voltage: 300 Vac
For dimensions visit this page