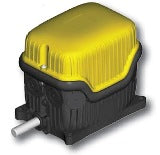 PFC9067L0313023: Ratio 1:300 - 2 Cams - Horizontal Assembly OSCAR Rotary Limit Switch
[Code: IPC0811297]
Oscar rotary limit switches consist of a gear motor that transfers rotary motion to customizable cams, switches, potentiometers and encoders. Oscar is a device used to control and measure the movement of industrial machinery when in need of measuring the movement on the basis of the rotation angle and/or of the number of shaft revolutions. PRSL0110XX, double break NO +NC snap action switches are standard with PRSL0111XX slow acting NC contacts are available for safety functions.
Oscar is used for industrial land construction lifting, industrial automation, stage technology and wind energy. Oscar can be fitted with different combinations of actuators and motion detectors: sets of cams and microswitches, potentiometers or encoders, absolute encoder Yankee 1 for set of cams and microswitches. The limit switch is available with a flange for direct coupling to the motor.
Oscar features transmission and gear driving shafts made of stainless steel AISI 430F or AISI 303 worm gear transmission shaft rotating on ball bearings, self-lubricating techno-polymer gears and driving bushes, techno-polymer base and cover. All techno-polymers used for the enclosure are wear resistant and protect the equipment against water and dust.


PFC9067L0313023 General Specifications:
Conformity to Community Directives: 2014/35/UE 2006/42/CE
Conformity to Standards: EN 60204-1 EN 60204-32 EN 60947-1 EN 60947-5-1 EN 60529
Regulations for the prevention of accidents BGV C 1 (only for Germany)
Storage ambient temperature: -40°C/+80°C
Operational ambient temperature: -40°C/+80°C
Protection degree: IP 66 / IP 67 / IP 69K
NEMA Protection degree: Type 4X*
Insulation category: Class I
Maximum rotation speed: 800 rev./min.
Cable entry: Cable gland M20
Markings and homologations: CE cULus* SIL 1 EAC
Standard Dimensions: 119mm(W), 155mm(L), 134.5mm(H)
Dimensions with Flange: 119mm(W), 171mm(L), 159.8mm(H)
Real Revolution Ratio: 1:300
Number of Cams and Switches: 2
PFC9067L0313023 Specifications of the Microswitches:
Utilisation category: AC 15 / 250 Vac / 3 A
Rated thermal current: 10 A
Rated insulation voltage: 300 Vac
Mechanical life: 10x106operations
Connections: screw-type terminals with self-lifting pads
Markings and homologations: CE EAC cULus
$1,067.00 USD

$1,067.00 USD
---
---