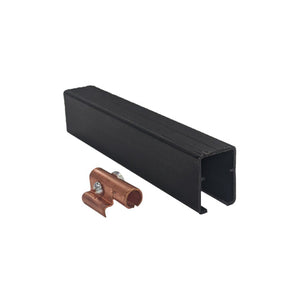 TF100: 100 Amp Power Feed
[Code: IPC0400108]
TF100: 100 Amp Power Feed
This is a 100amp power feed but can be suitable for higher amperage requirements or for longer runways by using the TF100 in pairs.
In order to feed power into the bar, the insulating cover that comes with the terminal lug clamps onto a 19.1mm (3/4") conductor.
6 AWG flex led wires can be accepted by this model.
Looking for a replacement part? Navigate here for all Series T products!