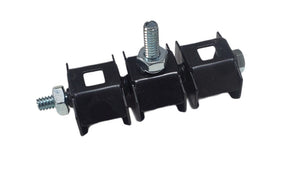 TH301: Triple Hanger Clamp
[Code: IPC0400120]
TH301: Triple Hanger Clamp
This stamped cold rolled steel hanger clamp is coated with nylon. To mount, bolts are to be 1/4" with a mounting hole of 5/16". Either a back bolt or a cross bolt can be used.
In order to save time on the installation process, the TH301 is supplied as a triple ganged hanger.
Hangers may be ganged as TH101, TH201, TH402 and are required for every 5' (1.52m) of conductor.
*Note: Joints should be located no more than 3" (76.2mm) from hangers to avoid flexing.
Looking for a replacement part? Navigate here for all Series T products!